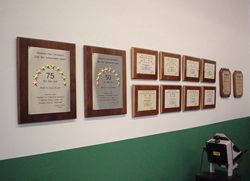 Just as we believe it's important for us to know who you are and how you approach your business, we also believe it's important for you to know who we are and how we approach ours.
Here you'll learn about the people, culture and capabilities that make our company unique. If you want to know where we're located, our hours of operation or simply what makes us tick, just follow the provided links for more information.
Once you take the time to find out what we're all about, we're confident you'll like what you see.
Minuteman Press South Hills has maintained a presence in Dormont since the 1980's. Formerly located on West Liberty Ave., the shop is now housed at 1521 Potomac Ave., a lovely tree-lined street in the heart of Dormont. The recently remodeled larger facility fits nicely into a village atmosphere, complete with light poles and brick sidewalks. Both street and lot parking are nearby.
Five staff members, each with a unique skill set, assist clients in communicating their message, whether that be with a simple flyer, a sell sheet, an invitation, or business and social stationery. Our staff members are provided training in the latest technology by Minuteman Press International, which recently celebrated 35 years of business.
With the advent of the digital age, the printing industry has been undergoing countless technological changes. Our clients require on demand, full color, and low volume printing at a reasonable price, and we are able to provide this by continuing to acquire state-of-the-art digital production equipment.
Our website allows clients to request estimates, send large art files, place orders, and "click" on links, which send the client to our greeting card or promotional product lines; and our portal system permits us to maintain document libraries for each customer, from which they can reorder at any time of the day or night.
Our hours are 8:30-5:00 Monday through Friday and by appointment on evenings and Saturdays.